Article Index
Services
Page 2
Page 1 of 2
Services offered
While I can't perform miracles on trains that have been heavily rusted or abused, I can generally take a train that's having extreme difficulty and bring it back to full running order. Lionel trains were meant to run, and run, and run, and with a little regular maintenance you can pass on that sixty-year-old train to your grandchildren and it will continue to run just the same as when Joshua Lionel Cowen, the founder of the Lionel Corporation, designed it and put it into production.
I will be glad to do complete teardown and rebuild of damaged or rusted engines. Be aware, however, that while parts are available to me for just about everything your train needs, they're not cheap in some cases, and once I get a line on parts I will give you a full estimate before I order them, which will be within three days in most cases.
If this is an item that hasn't been used in years and has been in a box in someone's attic for years in the Arizona heat, the chances are that to get it running will require rewiring as well as basic services. I do not do restoration on rusted locomotive bodies, but I can recommend people who do if you need help in that area.
There are some things even I can't fix. Here's an example: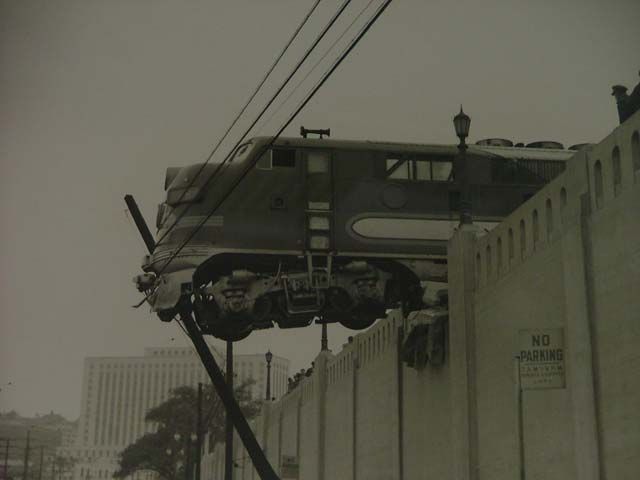 I can do yearly maintenance on occasionally-run trains. Often people are just like my dad was, and only run their trains at Christmas. If you do that, and then put the train away until next year, climate and time will often turn lubricants into sludge that needs to be removed so that the motor can be put back into service again.
Also available: parts replacement and service on all Lionel accessories. If I can't fix it, it can't be fixed.
I limit my work to Lionel trains, and for now I am fairly specific: I will work on the following groups of Lionel:
Prewar (1901-1942) engines and rolling stock
Postwar (1945-1969) complete – engines, rolling stock and operating accessories
Modern (1970-1986) complete – engines, rolling stock and operating accessories
If your trains and accessories have not been abused and just need cleaning/new brushes/lubrication to get them going, the work will typically take less than a week unless I need to order parts.
My price for repairs for ALL trains and accessories is $35.00 per hour plus the actual cost of parts needed. There is a minimum one hour's labor charge for any services rendered.
There are times when I will need to order parts and that will obviously lengthen the time needed. I will be glad to give a written estimate of repairs before beginning work, but if that requires parts I will need to research prices and availability of parts before I give you the final figure. I will NOT jack up the prices of parts – what I pay for them is what you will pay for them (including postage).
___________________________________
If you don't want your trains and are looking for someone to buy them, feel free to ask me for a price quote. I'll show you the latest collector's book for current prices, explain how they apply to your item for the condition it's in, and I'll make you an offer on it if I need it and if you decide to sell it.
_______________________________
I also will occasionally have extra accessories, train cars and engines for sale. If there's something you want, let me know. I may just have it, or be able to get it for you.
________________________________
All trains will be run on my test track at my house, and you will see the train function to your satisfaction before I send you home with it. I hate coming back again because something wasn't fixed right the first time, and you shouldn't have to deal with that either.
All repairs are guaranteed for ONE YEAR. If the work I performed, or the parts I installed, fail within that time period during normal use, bring it back and I'll get the problem taken care of at no charge.
Lionel trains were designed to last, and to give generations of kids a lot of enjoyment. Please let me help that happen for your trains!
Visit my Facebook page at https://www.facebook.com/ArizonaToyTrainRepairSee customers' trains as YouTube stars at https://www.youtube.com/user/AZToyTrainRepair


_______________________________________________________________________________________________

Once the service is done, if you're happy with my work, please consider submitting a review on Angie's List at http://www.angieslist.com . Thanks!
---
---
Comment by on 2012-09-08 13:36:52


HI
LOOKING FOR PARTS FOR LIONEL HO SCALE TRANSFORMER 0100.
DO YOU HAVE ANY OR IDEA WHERE I MIGHT FIND.

0100-20 SWITCH SHAFT
0100-21UPPER SWITCH ARM
0100-22 INSULATNG WASHER
0100-24LOWER SWITCH ARM

THANKS

TOM SEPUTIS
---
Comment by CaptHerp on 2012-10-18 14:52:03


I don't sell parts, but I obtain them when I need to do repairs. I recommend you look up Dew Associates as a seller on Ebay when you want replacement parts. If you don't feel comfortable doing the repairs yourself, my rates as noted above are $25.00/hour plus part cost and return shipping cost. I don't jack up part prices, and my work is guaranteed for a year, which pretty much beats the competition, plus I love fixing this stuff, which is always good. It's not just a business -- Lionel trains are a labor of love.

Good luck and thanks for your question.
---
Comment by on 2012-11-13 11:07:51


I have a 40's or 50's lionel locomotive that has a severly worn piece related to the front wheels. It comes off the track in turns. Do you think you can repair? Should I send it to you?
---
Comment by CaptHerp on 2012-11-21 05:03:49


Thanks, George -- I got your e-mail (and I have your General sitting on my table waiting for parts). You'll get it back shortly, and it should work like the day it was made. By the way, just for interest's sake, your 1872 General was made somewhere between 1959 and 1961 -- unless it had a black lantern, which is missing, which would put it at 1962. You'll have a new lantern and pilot (cowcatcher) painted to match and it will be running like new when you get it back.

Thanks for trusting me with your locomotive!

Tony
---
Comment by on 2012-12-02 14:04:27


Do you work on lgb trains I need the rubber band that goes around the wheel that runs on the track. let me know thanks Bill
---
Comment by on 2012-12-29 09:41:42


I have a mantua ho engine that needs a tune up and wheel that keeps falling off when running. Its about 20 yrs old, and yes only run at xmas, sentimental.
---
Comment by captherp on 2012-12-31 05:12:17


ONLY Lionel, Bill, as the site's introduction notes, and I never sell parts in any case. And no HO trains -- check your local hobby shop for such things.

Thanks
Tony
---
Comment by Glenn Gordon on 2013-01-03 06:34:02


Tony, you did a fantastic job on my ZW transformer. I am sure it will outlast me in my lifetime now. Your service was great with a very quick turn around time. I also appreciated a follow up call to make sure the transformer was working to my liking. Thanks again, Glenn
---
Comment by on 2013-01-20 20:43:46


Tony, I have a Lionel 2026 2-6-2 that has either a bent wheel or a bent axle. It is in pieces right now because we took the entire thing apart. I was wondering if i could just bring in the the motor assembly and have the end wheel and axle replace without bringing in the entire locomotive. Any help would be much appreciated thank you.
---
Comment by on 2013-02-03 14:35:27


Tony I am like you I repair most all of my work myself due to cost and etc. I am having a problem with putting a motor together for a pre war 203 switcher. I have all of the motor parts except for what they call an eccentric which fits inside the front wheels, I found the left side but an looking for the right side. The part number I believe is, Eccentric Rod Rh. 203M-23 , I would also have you install the wheels for me as I do not have a good press. Any help you could give would be appreciated. Thanks Jim Nolan