About me:
I am a child of the 1950s, the heyday of Lionel trains. Every kid had trains when I was a kid, and there was always a debate between the American Flyer kids and the Lionel kids – with me, Lionel won out. Since 1900, Lionel trains have given children of all ages memories to hang onto.
In the 1950s my brother had a Lionel train set that my father would set up every year at Christmas. It was fascinating to me, and in today's world of tiny, accurately-scaled N-gauge and HO scale trains, the big O-gauge Lionel trains of the past are something unusual. Lots of people had train sets in their attics or garages that deteriorated through temperature changes and the passage of time.
My brother went off to college five years before I did, and when he left he also left the trains behind. They didn't work very well, and so I took the engine apart, tightened everything up, cleaned and lubricated the motor, gears and wheels, learned how to replace a faulty barrel in the locomotive's "E-unit," and when I was done the train ran as well as it did when it was new. The problem was that when my brother came HOME from college and saw how well the train ran, he suddenly remembered that they were his and took them away with him. I never forgot the sound and look of Lionel trains, and decided to start collecting them. Collecting trains from pre-WW2 to the present also means that you need to have things repaired or tuned up occasionally so that they run properly. As my collection progressed, I realized that it wasn't easy to find someone who knows how to work on Lionel trains in Phoenix, and it can get a bit expensive if you have a large collection, so I was forced to do a lot of repairs on my own.
As a result, I have become knowledgeable about these trains and what it takes to keep them running. I have factory service manuals and materials from the days these trains were made, and access to the largest Lionel parts suppliers in the world. My prices aren't through the roof, and if you are not comfortable taking these pieces of toy history apart and want someone who knows how to keep your valued trains running, I offer my services.
Visit my Facebook page at https://www.facebook.com/ArizonaToyTrainRepairSee customers' trains as YouTube stars at https://www.youtube.com/user/AZToyTrainRepair

E-mail me at for information and to save us both money calling back and forth across the country.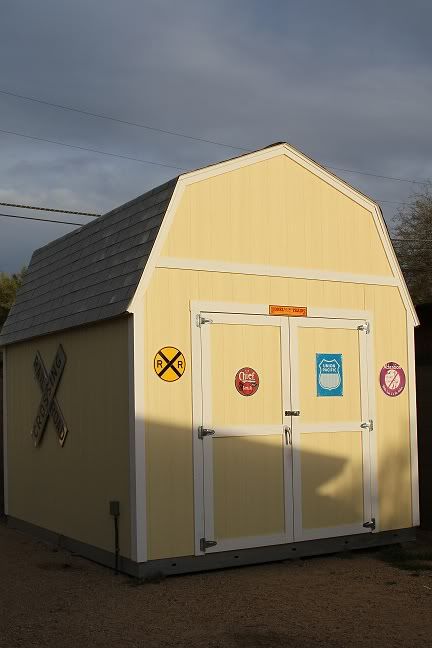 ---
---
Comment by on 2012-10-12 17:18:07


Reading your article reminds me of repairmen in the 50's and 60's. Men who had pride in their work. I am not a Toy Train
enthusiast as yet, but I may be on my way. I was given a Lionel Toy Train, but it does not work.I need a wiring diagram to re-wire the unit marked 2046W. Bit by bit I will get there. I am a Tinkler too.
---
Comment by CaptHerp on 2012-10-29 16:18:14


If you need any help, feel free to e-mail me at and I can send you wiring diagrams for about anything. The most important thing to me is that people keep these pieces of the past running and love them. While it's always nice to make a buck, I didn't get started doing this because I expected to get rich. Again, if you need any help/diagrams/etc. feel free to drop me a line and I'll see if I can do that for you.

Tony
---
Comment by Don Tirpak on 2013-04-15 13:04:30


I've been to Tony's shop a few times. He does outstanding work. His prices are more than fair. Again he doesn't have a huge overhead so that he can pass the savings on to you. Very happy with his work. A person that has knowledge of Lionel postwar and related items. And fun person to talk too.
Please login or register to add comments