A lady called a while back, looking for someone to work on her husband's Lionel train. They had run it for their grandson at Christmas, and realized that it needed some work, probably never having been serviced in fifty years. When she realized that I do my work at my home, she was apparently taken aback, and told me, "OK, well, if we decide to come over, we will call you." I had the distinct impression that it was the last I would hear from her.
I wanted to take this opportunity to tell you that I have worked on Lionel trains and accessories since I was a kid – that would be around fifty years ago. I started this business because I realized that I could do most necessary tasks on these trains, and with the size of my collection, paying someone else to do it was becoming time-and-cost-prohibitive. I have a full, complete set of service documents on CD and on original Lionel factory paper. Additionally I have a full range of parts and tools which include light bulbs, circuit breakers, smoke units, etc., all the way to wheel pullers for O-gauge and standard gauge wheels and a two-ton press which will install rivets or wheels on Lionel trains. I also have complete tools to rebuild the E-units for postwar trains, and am able to order parts for anything Lionel-related if I do not have them in stock. I don't sell trains (other than anything I have that's extra at the time) or toys. I service trains. That is ALL I do, and you can count on my work. NOTE: I DO NOT SELL PARTS. PLEASE DO NOT SEND REQUESTS FOR PARTS. I BUY PARTS ONLY IF I NEED THEM TO SERVICE A CUSTOMER'S TRAINS.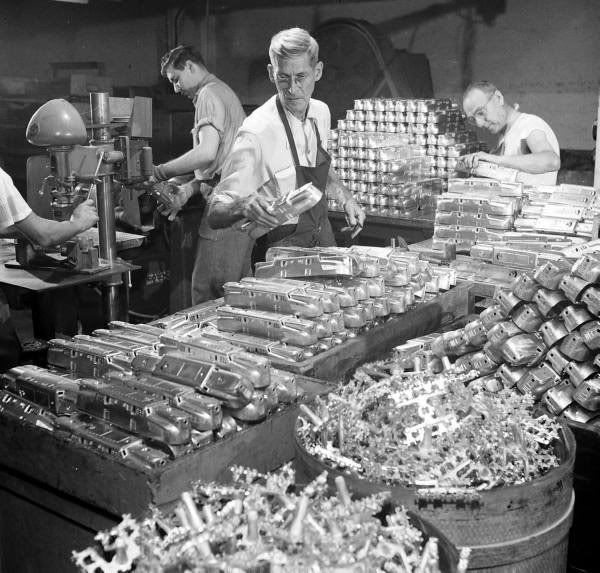 As an example: I had a customer bring me an older-model ZW transformer yesterday, complaining that the AU handle (the right hand throttle) which he normally used to run his trains had stopped working. He also wanted a new set of carbon rollers put on the transformer. He was apparently expecting to wait for weeks to get his transformer back when he dropped it off with me at about 11:00 AM. I called him to pick it up at around 1:30 PM the same day, with the broken contact repaired, new rollers installed, and a missing voltage post replaced. He was astonished.
There are a few things I'd like to point out here: I got into repairing these trains because as a hobbyist (some might say a guy who has never grown up) they bring back memories of my youth, and because I hate seeing them not work the way they're supposed to. It bugs me. When you drop off your trains with me, I will tell you immediately what's wrong, what I will need to do (as closely as I can determine) and give you a fairly workable estimate. If it's simply a matter of servicing a locomotive (lubricating, replacing brushes, cleaning and testing) you'll generally have it back within a week. If I have to order parts you should have it back within two weeks. You're not going to be sitting around for a month or two wondering if I have done anything.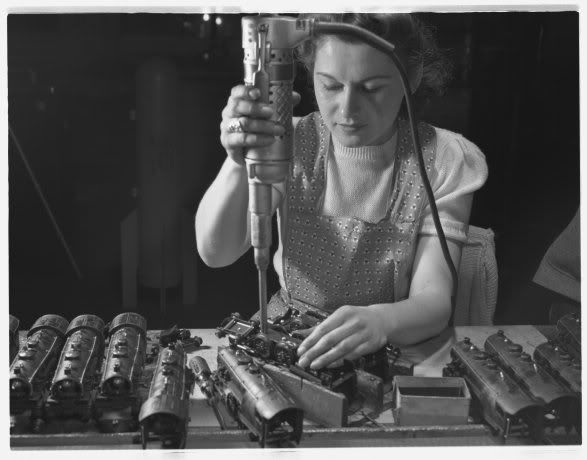 One more thing that I need to have you note: When you bring your trains to a "real" store for repairs, the guy they have repairing trains will generally take them home to work on them. Just like me. Just because it's a store it does NOT mean they have special equipment. Often they will need to call the repairman to pick up your trains, because overhead doesn't allow them to have a fellow on staff who does nothing but repair trains. I HAVE no overhead, and you will be handing your valuable items to the guy who does the work – ME. There will be no wait to begin repairs. Why? Because I love Lionel trains, and because I want you happy! Making those trains run again is a way to bring that train's history back to life, started possibly when a boy first received it at Christmas 60 years ago.
I hope that you decide to trust me with your valuable Lionel trains and accessories. I will do my very best to make you thrilled that you did, and because I am confident in my work, all repairs are guaranteed for ONE YEAR.


I hope that lady reconsiders bringing those trains to me. I'll have them humming just like new if she does.
Thanks!
Tony
Visit my Facebook page at https://www.facebook.com/ArizonaToyTrainRepairSee customers' trains as YouTube stars at https://www.youtube.com/user/AZToyTrainRepair

Note: To save us both money if you're out of state, please e-mail me with questions at . It's the fastest, easiest, and cheapest way to get information.
Right now -- October 2014 -- I am gearing up for customers who will need help getting their trains ready for Christmas. Don't wait until a week before Christmas to find out that your train won't run. Check them out NOW, and e-mail me at if you're going to need some help. Email is MUCH better than calling, and I recommend it because it costs neither of us a dime, you can send me photos, and you can get all your concerns down in writing so that I understand exactly what you need.
Contact me as soon as possible so that you don't get caught in the rush. Once I start getting repair orders for Christmas, the turnaround time increases.
Thanks --
Tony
Write Comment (1 comments)